Top 10 States of India in Tourism
Share of top 10 states/UTs of India in number of foreign tourist visits in 2011 (provisional)

Rank

State/Union Territory

Number

Share in %

1

Maharashtra

4,815,421

24.7

2

Tamil Nadu

3,373,870

17.3

3

Delhi

2,159,925

11.1

4

Uttar Pradesh

1,887,095

9.7

5

Rajasthan

1,351,974

6.9

6

West Bengal

1,213,270

6.2

7

Bihar

972,487

5.0

8

Kerala

732,985

3.8

9

Karnataka

574,005

2.9

10

Himachal Pradesh

484,518

2.5

Total of top 10 states

17,565,550

90.1

Others

1,929,329

9.9

Total

19,494,879

100
Share of top 10 states/UTs of India in number of domestic tourist visits in 2011 (provisional)

Rank

State/Union Territory

Number

Share in %

1

Uttar Pradesh

155,430,364

18.3

2

Andhra Pradesh

153,119,816

18.0

3

Tamil Nadu

137,512,991

16.2

4

Karnataka

84,107,390

9.9

5

Maharashtra

55,333,467

6.5

6

Madhya Pradesh

44,119,820

5.2

7

Rajasthan

27,137,323

3.2

8

Uttarakhand

25,946,254

3.0

9

West Bengal

22,256,968

2.6

10

Gujarat

21,017,478

2.5

Total of top 10 states

725,981,871

85.3

Others

124,874,769

14.7

Total

850,856,640

100
Historic monuments
The Taj Mahal

is one of India's best-known sites and one of the best architectural achievements in India, located in Agra, Uttar Pradesh. It was built between 1631 and 1653 by Emperor Shah Jahan in honour of his wife, Arjumand Banu, more popularly known as Mumtaz Mahal. The Taj Mahal serves as her tomb.

Fatehpur Sikri

It was the first planned city of the Mughals and also the first one designed in Mughal architecture, an amalgamation of Indian architecture, Persian and Islamic architecture and was declared a UNESCO World Heritage Site in 1986

Varanasi

The ghats of one of the oldest city of the world

The Mahabodhi Temple

is a 2000-year-old temple dedicated to Gautam Buddha in Bodh Gaya, Bihar. It is a UNESCO World Heritage Site.

The Nalanda

is located in the Indian State of Bihar, was a Buddhist centre of learning from 427 C.E to 1197 C.E partly under the Pala Empire. It has been called "one of the first great universities in recorded history."
According to historical studies the University of Nalanda was established 450 C.E under the patronage of the Gupta emperors, notably Kumaragupta.
<![if !vml]>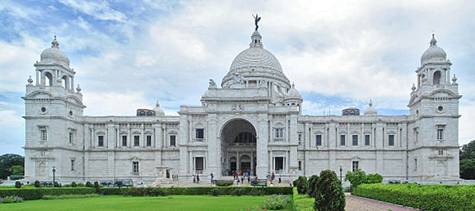 <![endif]>
The Victoria Memorial in Kolkata is built in memory of Queen Victoria by the British.
The Brihadishwara Temple

in Thanjavur, Tamil Nadu built by the Cholas. The temple is one of India's most prized architectural sites.

The Airavateswara temple

is located in the town of Darasuram, near Kumbakonam, Tamil Nadu

The Shore Temple

, along with the collection of other monuments in Mahabalipuram, Tamil Nadu have been declared as UNESCO World Heritage Sites

The Harmandir Sahib

is one of the most respected gurudwara in India and the most sacred place for Sikhs. The gurudwara is located in Amritsar, Punjab, India.

The Bah

á

'

í

temple

in Delhi, was completed in 1986 and serves as the Mother Temple of the Indian Subcontinent. It has won numerous architectural awards and been featured in hundreds of newspaper and magazine articles. (It is also known as the Lotus Temple.)

The Hawa Mahal

in Jaipur also known as Palace of Winds

The Taj Mahal Palace

is an icon of Mumbai

The Victoria Memorial

in Kolkata, built during the British Raj

The Chhatrapati Shivaji Terminus

in Mumbai, built for Queen Victoria
<![if !vml]>

<![endif]>
The Chhatrapati Shivaji Terminus (formerly Victoria Terminus) in Mumbai is a
train station built in Gothic architecture in honour of Golden Jubilee of Queen Victoria.
Nature tourism
India has geographical diversity, which resulted in varieties of nature tourism.
Water falls in Western Ghats & Himalayas including Jog falls (highest in India)

Western Ghats

Hill Stations

Lakes

Wildlife reserves

Deserts
<![if !vml]>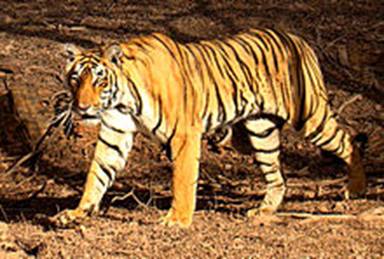 <![endif]>
India has the largest wild population of tigers in the world.
Wildlife in India
<![if !vml]>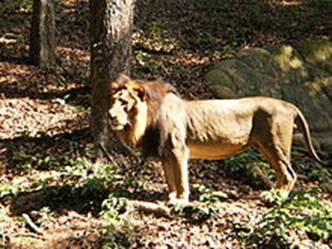 <![endif]>
The wild population of the endangered Asiatic lions is
restricted to the Gir Forest National Park in western India.
India is home to several well-known large mammals including the Asian Elephant, Bengal Tiger, Asiatic Lion, Leopard and Indian Rhinoceros, often engrained culturally and religiously often being associated with deities. Some other well-known large Indian mammals are ungulates such as the domestic Asian Water buffalo, wild Asian Water buffalo, Nilgai, Gaur and several species of deer and antelope. Some members of the dog family such as the Indian Wolf, Bengal Fox, Golden Jackal and the Dhole or Wild Dogs are also widely distributed. It is also home to the Striped Hyaena, Macaques, Langurs and Mongoose species.
India also has a large variety of protected wildlife. The country's protected forest consists of 75 National parks of India and 421 sanctuaries, of which 19 fall under the purview of Project Tiger. Its climatic and geographic diversity makes it the home of over 350 mammals and 1200 bird species, many of which are unique to the subcontinent.
Some well known national wildlife sanctuaries include Bharatpur, Raiganj, Corbett, Kanha, Kaziranga, Periyar, Ranthambore, Manas and Sariska.
The world's largest mangrove forest Sundarbans is located in southern West Bengal. The Kaziranga National Park, Manas National Park, Sundarbans and Keoladeo National Park are UNESCO World Heritage Site.
Hill stations
<![if !vml]>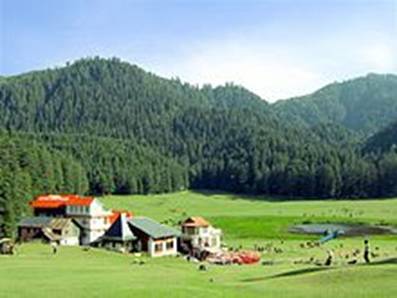 <![endif]>
A summer view of Khajjiar, a hill station in Himachal Pradesh.
<![if !vml]>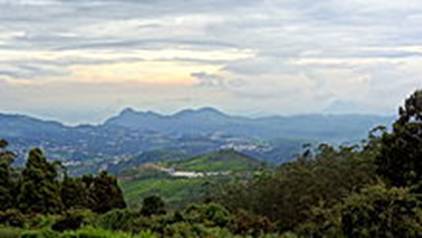 <![endif]>
One of the finest hill-stations in India.
Several hill stations served as summer capitals of Indian provinces, princely states, or, in the case of Shimla, of British India itself. Since Indian Independence, the role of these hill stations as summer capitals has largely ended, but many hill stations remain popular summer resorts. Most famous hill stations are:
Mount Abu

, Rajasthan

Pachmarhi, Madhya Pradesh

Gulmarg, Srinagar and Ladakh in Jammu and Kashmir

Shillong in Meghalaya

Darjeeling

in West Bengal

Shimla, Kullu in Himachal Pradesh

Nainital in Uttarakhand

Gangtok in Sikkim

Mussoorie in Uttarakhand

Manali in Himachal Pradesh

Tawang in Arunachal Pradesh

Mahabaleshwar in Maharashtra

Haflong in Assam

Araku, Andhra Pradesh

Munnar in Kerala

Ooty, Yercaud and Kodaikanal in Tamil Nadu

Jampui Hills in Tripura

Khajiyar in Himachal Pradesh

Coorg in Karnataka
In addition to the bustling hill stations and summer capitals of yore, there are several serene and peaceful nature retreats and places of interest to visit for a nature lover. These range from the stunning moonscapes of Leh and Ladhak, to small, exclusive nature retreats such as Dunagiri, Binsar, Mukteshwar in the Himalayas, to rolling vistas of Western Ghats to numerous private retreats in the rolling hills of Kerala.
Lakes
<![if !vml]>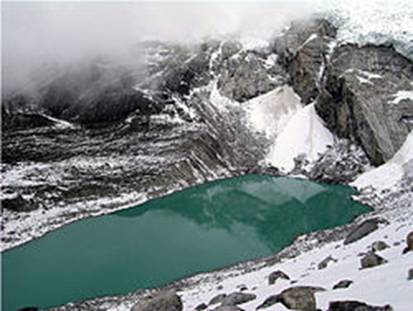 <![endif]>
View of Lake Tsongmo, Sikkim
Avalanche Lake

Dal Lake

Emerald Lake

Chandra Taal

Nainital Lake

Sheshnag Lake

Suraj Tal

Tso Moriri

Tsongmo Lake

Pangong Tso

Prashar lake

Rewalsar lake

Bhojtal

Loktak lake
Beaches
<![if !vml]>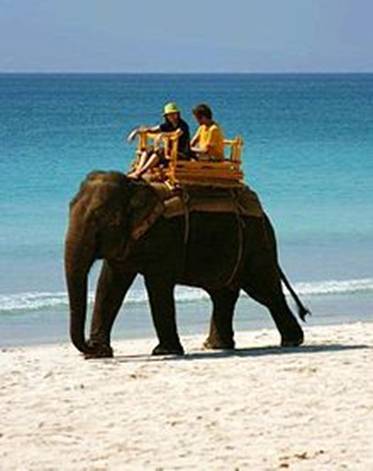 <![endif]>
Elephants and camel rides are common on Indian beaches.
Shown here is Havelock Island, part of the Andaman and Nicobar Islands.
India offers a wide range of tropical beaches with silver/golden sand to coral beaches of Lakshadweep. States like Kerala and Goa have exploited the potential of beaches to the fullest. However, there are a lot many unexploited beaches in the states of Andhra Pradesh, Gujarat, Maharastra, Tamil Nadu and Karnataka. These states have very high potential to develop them as future destinations for prospective tourists. Some of the famous tourist beaches are:
Beaches of Vizag, Andhra Pradesh

Beaches of Puri, Odisha

Beaches of Digha, West Bengal

Beaches of Goa

Kovalam Beach

, Kerala

Marina Beach, Chennai

Elliot's Beach, Chennai

City

Beach, Pondicherry

Beaches of Mahabalipuram

Beaches in Mumbai

Beaches of Diu

Beaches of Midnapore, West Bengal

Beaches of Andaman and Nicobar Islands

Beaches of Lakshadweep Islands
Adventure tourism
<![if !vml]>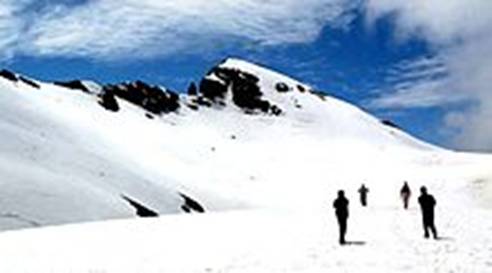 <![endif]>
Skiing in Manali, Himachal Pradesh
Due to its diverse geography and a myriad of cultures, coupled with the popularity of adventure sports adventure tourism in India has become quite popular. Backpacking, or light travel, is a popular way to explore India. Many of those who have previously visit will describe the visit as not having been a holiday but an adventure.
River rafting and kayaking in Himalayas

Mountain climbing in Himalayas

Rock climbing in Madhya Pradesh

Skiing in Auli and Gulmarg

Boat racing in Bhopal

Paragliding in Maharashtra
World Heritage Sites
<![if !vml]>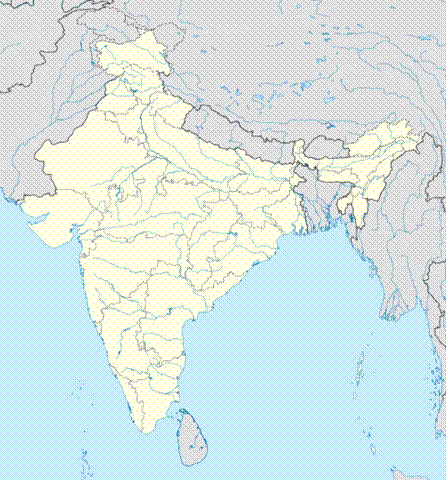 <![endif]>
<![if !vml]>

<![endif]>
Employment from tourism
As per the 2nd Tourism Satellite Account of India 2009-10 and subsequent estimation, the contribution of Tourism in employment generation of the country during 2009-10, 2010–11 and 2011–12 were 10.2%, 10.8% (Provisional) and 11.5% (Provisional), respectively. The Working Group on Tourism for 12th Five Year Plan, set up by the Planning Commission, has estimated the generation of additional employment of 24.5 million (direct and indirect) during 2010 to 2016.
World Tourism Day
Since 1980, the United Nations World Tourism Organisation has celebrated World Tourism Day on September 27. This date was chosen as on that day in 1970, the Statutes of the UNWTO were adopted. The adoption of these Statutes is considered a milestone in global tourism. The purpose of this day is to raise awareness on the role of tourism within the international community and to demonstrate how it affects social, cultural, political and economic values worldwide.
The Indian Institute of Tourism has been organising the World Tourism Day functions on 27 September every year since inception of the Institute on 27 September 1982. The following themes decided by the United Nations World Tourism Organisation were discussed at length by the policy makers and activists related to tourism :
1982 : Pride in Travel: Good Guests and Good Hosts
1983 : Travel and Holidays are a right but also a responsibility for all
1984 : Tourism for International Understanding, Peace and Cooperation
1985 : Youth Tourism: Cultural and Historical Heritage for Peace and Friendship
1986 : Tourism: A Vital Force for World Peace
1987 : Tourism for Development
1988 : Tourism: Education for All
1989 : The Free Movement of Tourists Creates One World
1990 : Tourism: An Unrecognized Industry, a Service to be Released
1991 : Communication, Information and Education: Powerlines of Tourism Development
1992 : Tourism : A Factor of Growing Social and Economic Solidarity and of Encounter between People
1993 : Tourism Development and Environmental Protection: Towards a Lasting Harmony
1994 : Quality Staff, Quality Tourism
1995 : WTO : Serving World Tourism for Twenty Years
1996 : Tourism : A Factor of Tolerance and Peace
1997 : Tourism : A Leading Activity of the Twenty-first Century for Job Creation and Environmental Protection
1998 : Public-Private Sector Partnership : The Key to Tourism Development and Promotion
1999 : Tourism : Preserving World Heritage for the New Millennium
2000 : Technology and Nature : Two Challenges for Tourism at the Dawn of the Twenty-First Century
2001 : Tourism : A Toll for Peace and Dialogue among Civilizations
2002 : Ecotourism, the Key to Sustainable Development
2003 : Tourism : A Driving Force for Poverty Alleviation, Job Creation and Social Harmony
2004 : Sport and Tourism : Two Living Forces for Mutual Understanding, Culture and the Development of Societies
2005 : Travel and Transport : From Imaginary of Jules Verne to the Reality of the 21st Century
2006 : Tourism Enriches
2007 : Tourism Opens Doors for Women
2008 : Tourism Responding to the Challenge of Climate Change and Global Warming
2009 : Tourism - Celebrating Diversity
2010 : Tourism and Biodiversity
2011 : Tourism Linking Cultures
2012 : Tourism and Energetic Sustainability
2013 : Tourism and Water : Protecting our Common Future
Publications broughT out by the indian institute of tourism
The Indian Institute of Tourism has brought out the following publications related to tourism, travel, hospitality, hotel management, catering, nutrition, aviation etc. :
1. Encyclopaedia of Ecotourism
2. Introduction to Hospitality Administration
3. Hospitality of the 21st Century
4. Food Production
5. Food and Beverage Services
6. Front Office Management
7. Catering Technology
8. Food Processing and Safety
9. Computers in Hotels
10. HRM for Hospitality Management
11. Brand Management in Hotels
12. Business Solutions Management
13. Hospitality Services Management
14. International Hotel Operations
15. Laws and Ethics and Hotels
16. Hospitality Research
17. Future of Hospitality Administration
18. Housekeeping Management
19. Hotel Accountancy
20. Hotel Engineering
21. Bar Management
22. Accommodation Operations
23. Kitchen Operations
24. Hospitality Sales and Marketing
25. Hotel and Tourism Economics
26. Nutrition, Food and Hygiene
27. Food Microbiology
28. Facilities Planning and Management
29. MIS in Hospitality Industry
30. Management of Tourism and Hospitality Industry
31. Hospitality Professional Services
32. Hospitality Administration and Manpower Development
33. Hospitality Project Management
34. Hospitality Management, Training and Development
35. Ecotourism and Environment
36. Tourism Planning : Approaches and Technologies
37. Tourism Ethics and Code of Conduct
38. Hotel Marketing
39. Food Science and Kitchen Safety
40. Food and Beverage Production
41. Catering Technology
42. Improving Hospitality Services
43. Catering Management
44. Culinary Facilities
45. Global Hospitality Management
46. Innovation in Hospitality Sector
47. Concepts of Tourism
48. Introduction to Ecotourism
49. Ecotourism Venues and Business
50. Ecotourism Planning and Development
51. Design of Ecotourism Facilities
52. Wildlife Tourism
53. Social and Cultural Aspects of Ecotourism
54. Researching Tourist Satisfaction
55. Remote Sensing and GIS
56. Principles of Nutrition
57. Nutrition, Diet and Wellness
58. Herbs and Natural Food Supplements
59. Nutritional Healing
60. SPA and Hospitality Operations
61. Wellness Industry, Services and Treatments
62. Wellness Industry Finance
63. SPA Marketing and Branding
64. Green SPAs, Hotels and Resorts
65. History of Aviation
66. Aviation Hospitality Management
67. Flight Reservation and Ticketing
68. Ground Handling and Management
69. Cabin Safety and Security Management
70. Aircraft Finance and Marketing
71. Aircraft Typology
72. Aviation Disaster Management
73. Airport Security
74. Aviation Regulations
75. Indian Airports Management
76. Aviation and the Environment
77. Aviation Economics
78. Aircraft Maintenance
79. Civil Aviation Organisations
80. Airline Mergers and Acquisitions
81. Future of Aviation Industry
82. Aircraft Equipment and Processes
83. Flight Guidance Information System
84. Air Timetable and Ticketing Services
85. Aviation Marketing Management
86. Aircraft Accidents Mitigation
87. Airport Management Science
88. New Dimensions of Aviation Management
89. Tourism Geograpy
90. Cultural Tourism
91. Geotourism
92. Heritage Tourism
93. Hypermobility
94. Agri Tourism
95. Birth Tourism
96. Culinary Tourism
97. Extreme Tourism
98. LGBT Tourism
99. Medical Tourism
100. Nautical Tourism
101. Pop-culture Tourism
102. Religious Tourism
103. Sex Tourism
104. Slum Tourism
105. War Tourism
106. Wellness Tourism
107. Sustainable Tourism
108. Pro-Poor Tourism
109. Recession Tourism
110. Educational Tourism
111. Adventure Tourism
112. Mountain Tourism
113. Creative Tourism
114. Dark Tourism
115. Doom Tourism
116. Space Tourism
117. Sports Tourism
118. Science Tourism
119. Urban Tourism
120. Rural Tourism
121. Business Tourism
122. Industrial Tourism
123. Social Tourism
124. Bicycle Tourism
125. Virtual Tourism
126. Accessible Tourism
127. Alternative Tourism
128. Atomic Tourism
129. Benefit Tourism
130. Birth Tourism
131. Boat Tourism
132. Christian Tourism
133. Dental Tourism
134. Disaster Tourism
135. Domestic Tourism
136. Drug Tourism
137. Enotourism
138. Escorted Tourism
139. Excursion Tourism
140. Experimental Tourism
141. Extreme Tourism
142. Female Sex Tourism
143. Garden Tourism
144. Genealogy Tourism
145. Ghetto Tourism
146. Halal Tourism
147. Honeymoon Tourism
148. Jungle Tourism
149. Justice Tourism
150. Kosher Tourism
151. Libel Tourism
152. Literary Tourism
153. Militarism Heritage Tourism
154. Motorcycle Tourism
155. Nautical Tourism
156. Package Tours
157. Recreational Tourism
158. Romance Tourism
159. Sacred Tourism
160. Safari Tourism
161. Scenic Tourism
162. Self Guided Tourism
163. Shark Tourism
164. Slum Tourism
165. Stag Party Tourism
166. Suicide Tourism
167. Three Dimensional Virtual Tourism
168. Tolkien Tourism
169. Tourism Geography
170. Walking Tour
171. War Tourism
172. Water Tourism
173. Wellness Tourism